Administrator
Staff member
Capt. Derek invited me out for some rainbow trout fishing at Pt. Bruce today aboard the Mickey Finn. We were met by Greg at the North Erie Marina ramp and greeted with the customary excellent customer service. As many of you know, North Erie has been so popular of late that parking has become a bit of an issue at Port Bruce. I would encourage all anglers to help Greg and Sam in any way possible in order to keep this great access to the Erie sport fishing going strong.
The lake was flat all day. Lots of pier fishermen were already at it as we headed out.
We headed straight out and set-up in the mid-fifties. We had a bang early but nothing stuck. After a couple of hours of trolling out to around 60', we found warmer surface water near 70 degrees and finally coaxed a bow to hit 1 of 3 riggers. The fish did a few aerials with the rod in the hands of a first timer but it unfortunately spit the hook on the 4th leap. Still some excitement for all. We boated a couple of sheepies and called it a day. Other boats were reporting pickerel and rainbow catches off dipseys and leadcore. A boat next to us landed a bow off the boards.
A few pix of our day:
Just set up:
Fish on!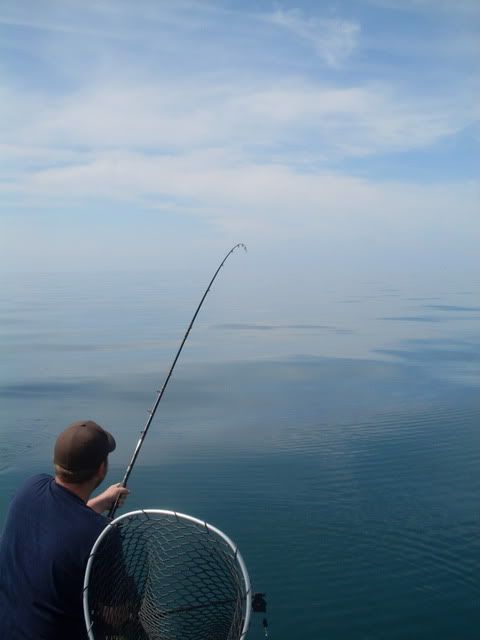 Not what we were looking for.
Still a great day on the water. Ended our day seeing Greg save one of his older customers from a mishap by asking if he remembered to put the plug in before launching. He hadn't and that boat and 2 anglers wouldn't have made it down the river without that reminder!