Derby is a Go for Saturday!
Rotten Ronnie's Third Annual Perch Ice Fishing Derby Saturday, February 19th 2011.
TICKETS ARE NOW AVAILABLE AND CAN BE PURCHASED AT ROTTEN RONNIE'STHERE WILL BE TROPHIES, PARICIPANT CERTIFICATES AND GRAB BAGS FOR ALL THE KIDS, REFRESHMENTS AND SNACKS AT THE WEIGH-IN.​
Rules and Regulations
1. Entry fee $10 per person, over 12 (Adult division).
$2 children, 12 and under (Kids division).
2. All fish must be caught in Long Point Bay. The eastern boundary is from the lighthouse to the mouth of Nanticoke Creek.
3. Cut-off time for purchasing tickets is 10am Saturday, February 19th, 2010.
4. Weigh in time is from 1pm until 3pm Saturday, February 19th, 2010.
5. Total weight of up to 5 perch can be entered for adult division, total weight of 3 perch can be entered for the kids division, weigh in is at Rotten Ronnie's Bait and Tackle.
6. Adult division: Payout will be 85% of the entry fees with cash prizes of 50% for first, 25% of second, and 10% for third. The remaining 15% of entry fees will be donated to the Long Point Fish and Game Club.
Kids division: Prizes will be awarded for first, second, and third, as well all participants in the kids division will receive a grab bag at the weigh in with ticket.
7. You must have a ticket to weigh in your fish.
Free Cookies and Hot Chocolate will be available from 1:30 until 3:30 with ticket.
NEW FACEBOOK CONTEST FOR FAMILY FISHING WEEKEND. BEST FAMILY/GROUP FISHING PICTURE.​
Photo's must be posted on the wall no later than February 22 at midnight. Photo must have at least two people in it to qualify. Photo must have a Caption relating to the photo. Only one photo per person can be posted, multiple postings will be disqualified. The winner will be decided by judging panel. Winner will receive a $50 gift certificate for Rotten Ronnie's Bait and Tackle. Good luck to all participants.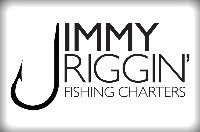 Jimmy Carroll
Jimmy Riggin' Fishing Charters
www.jimmyriggin.com
info@jimmyriggin.com