Administrator
Staff member
Still smarting from a rainbow skunking at Bruce a couple of days earlier, Derek and I and a couple of others joined Big Dave to go after some yellow perch off Hastings. I think the smell of skunk was pretty much replaced by the smell of fish, lots of fish.
We fished 8:30-10:00 in 54', but, just as the bite was picking up, we were chased off the lake by a thunderstorm that clipped the west end of the point. It looked like Burwell and Stanley may have been at its centre, but it was scary our way too, so we bolted (like the lightning) and all were glad we did. We sat it out having a late breakfast while the storm moved out over the lake. Internet weather radar was a great help today. Despite dark skies, on radar we could see the storm moving due south, so we decided to give it another go and, boy, was it was worth the 2nd trip off the beach!
We headed back out to about 44' shortly after noon and quickly found a school of beauty jumbos. We finished up by 3:30 with a big catch that included numerous doubles of monster perch on pickerel rigs. The action was very steady and the size of these fish was remarkable. Lots of times, 2 or 3 anglers were all hooked up. The smallmouth fishery on the Bay is an amazing fishery, but, given a choice, I would opt for the perch fishing on the lake side any day. If you get the chance, get out there for some world class minnow-dunking while there is still some perch and some bait around.
Some pictures of the day:
A short video of the typical action as we were finishing up.
http://s98.photobucket.com/albums/l265/stomper_04/?action=view&current=SDC11666.mp4

Cooler shot. We had a wheelbarrow lined up for this shot, but too much work to move all this fish.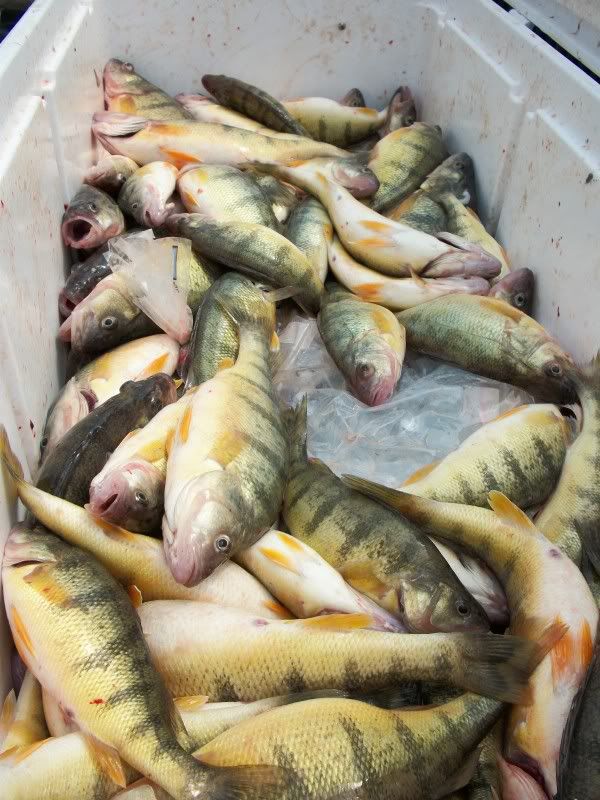 A smaller one, but a keeper 4 sure:



Jumbo: