Administrator
Staff member
My nephew, Jim, who loves fishing, just had a birthday and I hadn't gotten him a present. When Big Dave extended to me an invite for me and a guest to join him for a "Grand Slam" day of fishing, I was pretty sure I had found the right gift. I wasn't totally sure tho', cuz when a guy of Dave's stature, with whom you've traded more than a few insults, suggests a slam, a fella wants to be sure of just what that means.
Well the slam turned out to be a shot at much of the finest fishing that Lake Erie has to offer. We started off the beach at Long Point and were soon boating some beauty Lake Erie jumbo perch. That was pretty cool with the birthday boy, but after an hour or so and 100 perch in the cooler, he was getting anxious to try for a trophy 'eye or big 'bow, neither of which he had caught before. So off we went to the 60' mark near Pt. Burwell. Dave's buddy, Darryl, was a riggin machine and in very quick fashion had 8 lines set. Within minutes, 4 rods went off simultaneously.
Jim was pumped and said out loud that he would "reel them all in". Big Dave and Darryl held him to his word, happily introducing him to "the widowmaker". Not only did they hand him every rod that went off, they also gave him much encouragement when he started to slow down when cranking and offered plenty of advice when any "mistake" was made... the abuse that kid took... After 10 shots on 10 colour core, Jim had truly experienced the "Grand Slam". He got his jumbo perch. He got his trophy 'eye. He got his acrobatic 'bow. He got a very sore arm.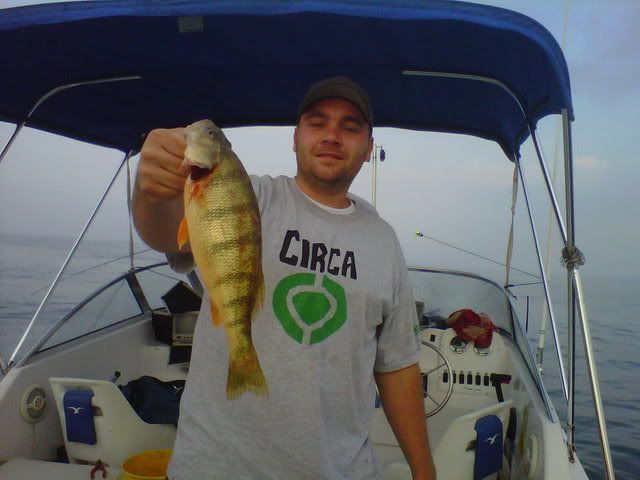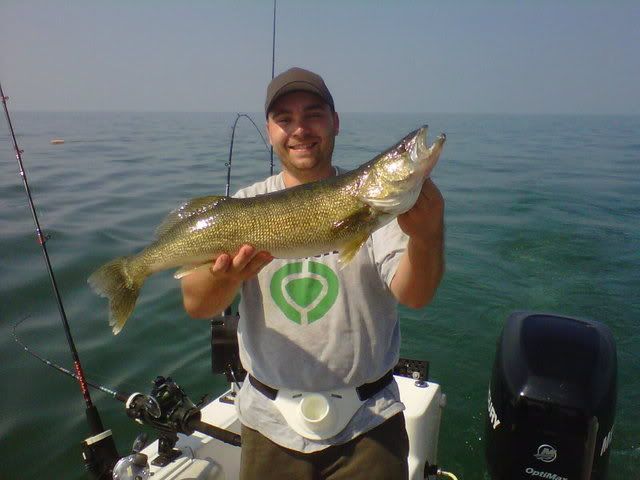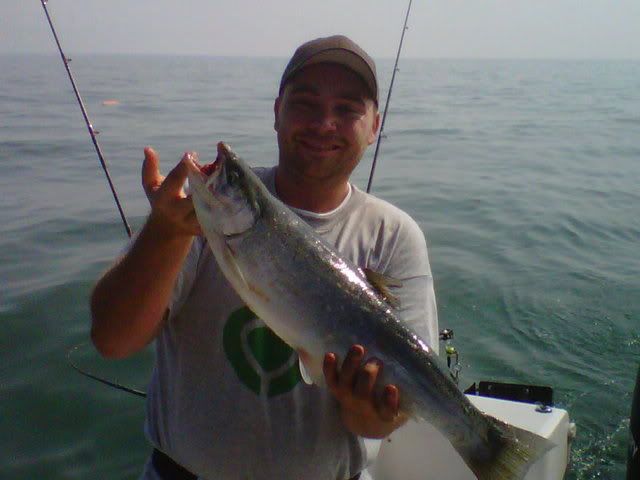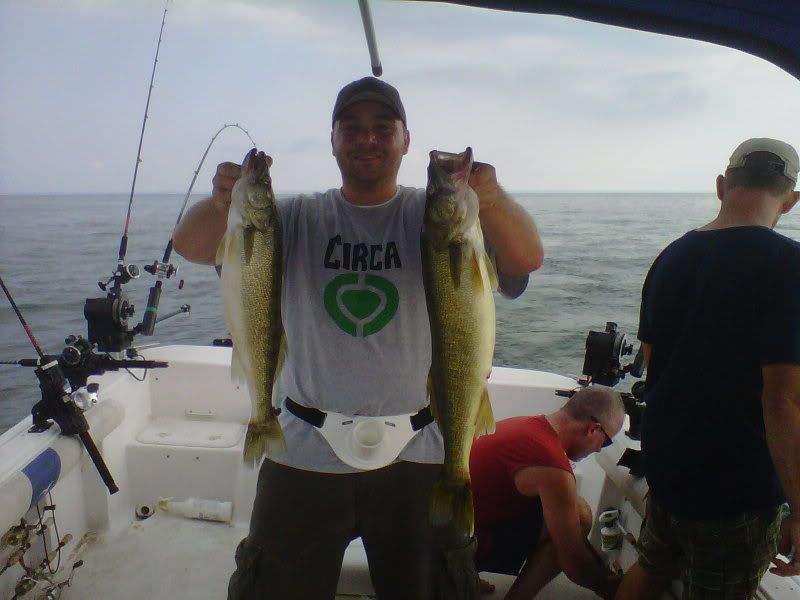 It was a great day on the water and we ended with a huge cooler full of fish! 19 'eyes (4 lost close to the boat), 4 rainbow, 100 perch (and only a few sheepies). Jim had to bail before the rest of the crew were ready to call it a day, so we reluctantly ran in to shore while Big Dave and company frantically planned for a refuel and return to Burwell to fish until dark. Jim and I left with our share of the catch... and that's when I experienced my own version of the slam... cleaning my fish (and all of Jim's)while he spent Friday night out on the town! I too was pretty sore and tired at the end of the day, but, man, what a day it was!