First a quick logistics note....the plan was to get together with Brad Andrews and chase the whities on Simcoe today....while following me on Hwy400....an SUV went in between us right when it was time to exit on Innisfil Beach Rd.....I exited while seeing Brad continuing North on the Hwy....so I've made quick U-turn and got back on the Hwy trying to chase him down before the next exit (Essa Rd.) had to drive 150km/hr and caught up with him about a km before the exit...started pressing the horn, blinking with the bright lights etc. to get his attention...the big semi next to me noticed but not Brad, didn't have a cell phone with me either....so after failing I've exited again 400 and went back on it but South bound...got late for my friend who was waiting me and got separated with Brad...not a good start for the day for sure....and it showed later on...sorry Brad we'll have to try it again some other time...
Now to the report.....
----------------------------------------------------------------------
Another one of those "unusual" days...started early enough about 8:30am...but wasted the first 3 hours in trying to figure out how to get to where we wanted to go with all the new pressure cracks that were like small mountains in places....all new and very dangerous...be very careful guys...stay away and don't even think of jumping them yet...very fresh ice....often less then 24 hrs, partially floated uneven on both sides...in brief full of potential troubles...must have put over 60 km on the car today from driving on the ice and around the ice and back on again....what a mess the lake has quickly become....oh well...lucky whities...but not lucky enough to escape us.... with both kids in tow (3 and 6) and Chuck as a guide....we did manage to find a way to our planned destination...once there we needed two quick moves to find the hungry ones...and once that happened it was business as usual...
The stats for the day: 72 fow, Meegs and Williams both worked but I had to really fines my Meegs presentation today as they were very very finicky...and got unusually high number (for me) of whities on Williams ...on the way back....we've struggled again finding the best way in the icebergs slalom out there....stopped quickly for 10 min of perch action for the kids...but kept getting....herrings....so we called the day at that point and head back to shore...in one piece (hard to believe I know;-)
All in all one more great day shared with my boys and best friend....and lots of fish ...hey what more can one ask for?!!?
Few shots for your viewing pleasure: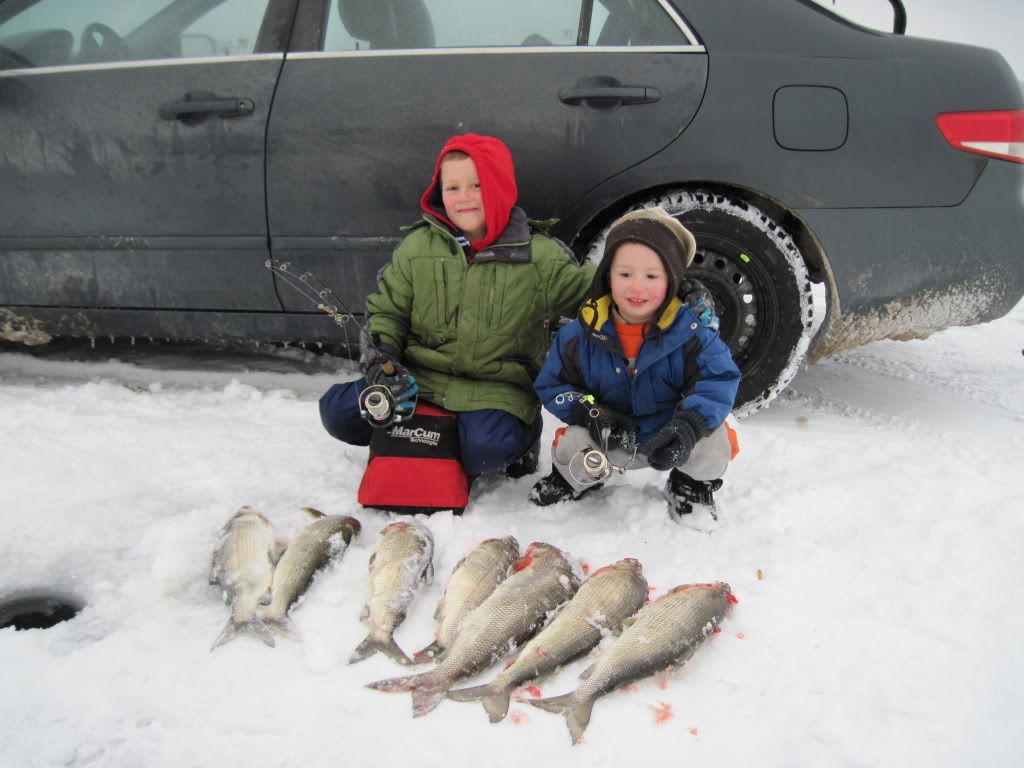 Cheers,
Ice Fisherman