Rotten Ronnie's Spring Perch Derby!Saturday, April 30th​
1. Entry fee $10 per person.
2. All fish must be caught in Long Point Bay. The eastern boundary is from the lighthouse to the mouth of Nanticoke Creek.
3. Cut-off time for registration is 10am Saturday, April 30th, 2011.
4. Weigh in time is from 1pm until 3pm Saturday, April 30th, 2011.
5. Total weight of up to 5 perch can be entered, weigh in is at Rotten Ronnie's Bait and Tackle.
6. Payout will be 85% of the entry fees with cash prizes of 50% for first, 25% of second, and 10% for third. The remaining 15% of entry fees goes to the LPBAA.
7. You must have registered to weigh in your fish.
It's only one division, kids are welcome to participate but the cost is still $10 each.
Our Open House will also be going on so a great time to take advantage of some deals, and refreshments.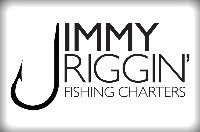 Jimmy Carroll
Jimmy Riggin' Fishing Charters
www.jimmyriggin.com
info@jimmyriggin.com