Well-Known Member
R.O.C. (Radio Operator's Certificate)
Arrived at Bradfields Saturday at 6am to find some boats that had gone out were coming in reporting 5-6 foot rollers while trying to head south. Having been up and on the road for 3 hrs we were at least going to go out and have a look as the wind was calm inland. Headed SE across the big rollers and wasn't bad but a slow trip. Started on 58' and kept heading SE. Fish were still scattered but slow steady action. Worm harness and Ripplin Redfin were best producers on 4 and 5 colour lead. Ended with 7 eyes and 2 bows and lost 4 other bows including a screamer that took the rod under the boat in the down east holder with enough force the first mate couldn't pull the rod out before the 20# fluoro leader snapped. Drag was too tight [V]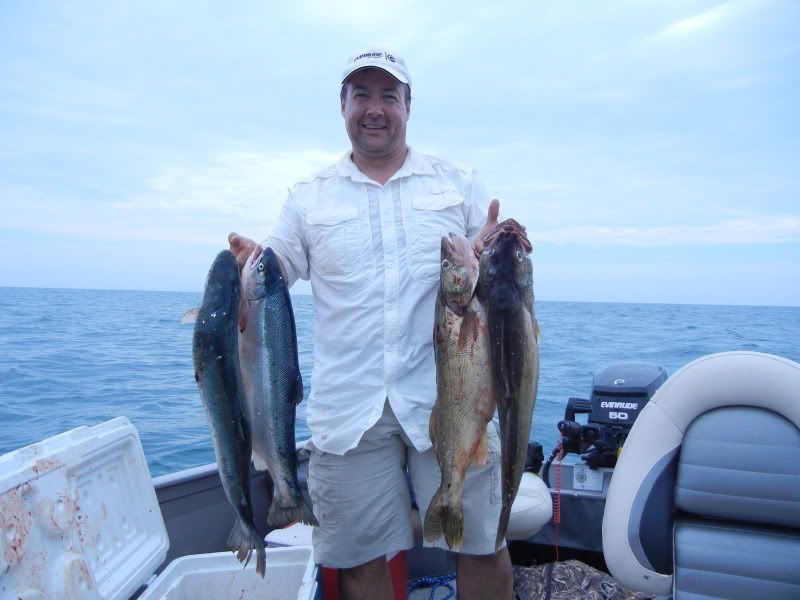 Was a Bloody day in the boat, alot of gill hooks
Monday headed out with another bud and the kids, wasn't bad going out but was a long slow ride back into 15 knots NW wind by noon. Best troll was with/cross wind and the dipseys out produced the lead. Ran 4 #1 dipseys, on 2.5 out 60' and 3.5 out 80'and 2 lead a 4 and a 5 clolour. All colours tried caught some fish, the usual copper backed oranges, purples, mixed veg. Silver mixed veg was popular with the bows. Only sheep on the redfin, lots more sheep for some reason. At least a dozen compared to none on Saturday, they must be moving east as well?
They eyes were smaller average 3-5lb compared to 5-8lb Saturday. Nice 11lb bow with a hitchhiker the kids wanted to bring home.
Kids has fun and handed the waves well.