8DOK...this may become a longer than usual report...but here it goes...
Arrived at Burwell last Wed. did few hours of beach play with kids and wife and went to the launch about 3pm...saw boats coming in spoke to them...not great fishing...and all said lake is bumpy...wondered for about an hour and finally decided against going out that afternoon....checked the forecast over the VHF (Environment Canada) and it wasn't great but doable for Thur morning....called a board member (cc_shad00) and made plans for Thur morning...started at 6am went into a search mode, tried everything in the box (body baits/harness/spoons)...not a sniff until 10:30am....by 1pm we've got several eyes and a bow...missed some too...Cuong had to leave early...so we called the day....thanks for the company Bud....we'll do it again...spoke to Arnie...he gave me the good news about great weather Friday...started with him and Albers at 6am...you've seen his report...I'll just add few pictures bellow....great day aside of Arnie nailing himself with the hook in the finger...I offered to go back to port so he can go to the hospital but he was a trooper though staying and finishing the day with 17 eyes and some bows....
Always outstanding time with Arnie and Albert...tons of fun and loughs....
was going to go again in the afternoon but decided instead to go Sat morning with the kids for some perching....so we did starting at 6am Sat. morning....got tons of small fish released and kept just 10 for lunch...refuelled while waiting for a friend of mine to arrive at the PP so we can go after the eyes....kept checking the VHF for weather updates and kept hearing the same tape from Wednesday...useless....
went to the launch with him about 4:30 pm ...talk to few boats coming back...bumpy but doable they said..so we went...to about 58-59 fow...right where South Coast charters and 2 other boats were...kept getting bows...so we moved deeper to the spot from Fri. and they were waiting for us and hungry...started filling up the box quickly...then the sky changed suddenly about 7:30pm...as we started pulling rods fish decided to go for complete suicide...never seen anything like this....all my remaining rods in the water fired within 30 sec....we were pulling dipsy rods with fast retrieve just to find eyes hitting them during the fast retrieve...at this point we didn't try to keep the fish on the hook and pull hard but all fish stayed on....at one point we've had 3 eyes in the net as there was no time to put them in the live well....anyhow...decided to put up the roof (so glad we did as it turned out later it has saved us)....throw everything in a pile and fired the big motor stop the kicker....by then wind got huge....had to be over 30 - 40 knots, got completely dark....have never seen anything like this, it all happened super fast ...over 2-3 min wind changed from SW to NW and started picking water from the lake and dumping it in the boat...headed to port but forgot to pull the riggers in....5 min later remembered and stopped to do it...that saved me $400- $500 in lost probe balls and cable....anyhow...by then waves were like in those documental movies I've watched from the Ocean fishing boats...boat was going up in the air just short of the vertical....maybe 70-75 degrees from the surface...and that surface was literally boiling...I was thinking earlier in the day I have enough fuel (just over half tank) but did fill to the top just in case....second lucky chance for me as we've used almost all of it over the next 2 hours...it was incredibly difficult to keep course to Burwell...
Third lucky charm was the waves were coming from NW but 5-10 degrees to the left of our course...that allowed me to keep direction to Burwell and heading waves under slight angle...proved to be the winning strategy as every other direction was suicidal...turning our backs to the waves was non option as they would have dumped inside and sink us in no time...going parallel/sideways was not working either as the boat was very unstable....attacking them head on could not work as well....they were so high that dropping the boat from top of the wave into the bottom of next one would have fill the boat from the front in no time...so the only way we've had some chance to save ourselves was to go diagonally...and luckily that happened to be our most direct way to port...waves were 10-12 feet high...at times the whole horizon disappeared as the boat climbed the wave...then next one ...and the next....one wave at the time...5-7 mpr was the highest/safest speed we could do...going faster would have destroyed the boat...going slower was getting us nowhere as waves were pushing us around and off course....Coast Guard on channel 16 was working overtime....3 Maydays between 8:30 and 9:15 in the midst of the storm....small 15 foot boat off Burwell out of fuel....(unimaginable how they managed)....we were looking for them while going to port (Coast guard asked us but couldn't see them in the pitch darkness), then 2 more boats one taking water at Turkey point....eventually all turned well and boats got safe to shore and Mayday was cancelled about 9:30pm...hearing all that on the radio all the time gave us the courage we can make as others were in much worse shape than us...after all we've had good solid big motor, great boat, full tank of gas...and lot of desire to get back to shore...by about 9:30 we've got to about 2-3 miles from Burwell and waves decreased as shore shielded us...we were at the launch just before 10pm....spoke briefly with South Coast and Larry/Green Baron...thank you again guys for your kind concerns and keeping an eye for us...last trailer at the parking lot....full live well with eyes and bows...cleaning fish until 1am under the cover in the PP in the rain....
This whole thing showed me and thought me a lot...learned things one cannot learn from reading book and hearing stories....gave me a whole new trust in my boat....learned how to fight waves that were wayyy bigger than my boat....my friend who is a relative rookie was happy hugging me to thank me for getting him back to his wife and kids at the camp side....he was very calm and helpful during the whole ordeal....helped with the light to find the markers to the channel...in short he was real trooper....
Forgot my camera in the truck so no pictures of the storm...but even if I had the camera I doubt we could/would have made any pictures and would have probably lost my camera as everything in the boat was soaking wet....
While I am sure I would not attempt fighting any future similar storm I now know I can do it if it comes to it...human desire to survive is the most powerful moving force...Love my boat (17.5 feet Lund Pro Sport)...and will always leave port with full tank of gas
Hope others have some use from reading the above
Here are few shots from before Saturday...bunch of double and triple headers....sleeping teammates...fish finder loaded like Christmas three all the time...Arnie in all his glory and kids playing at the camping site...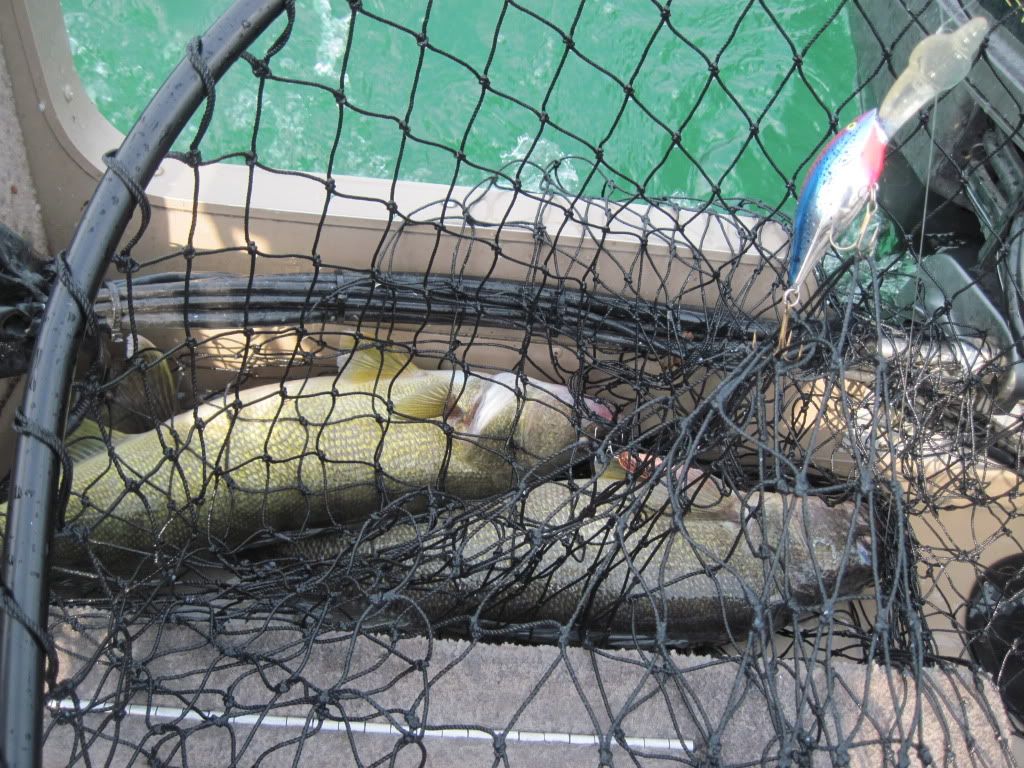 >
Cheers,
Ice Fisherman